1968 L30/M20 Camaro Restoration
Rich Fields
Finished...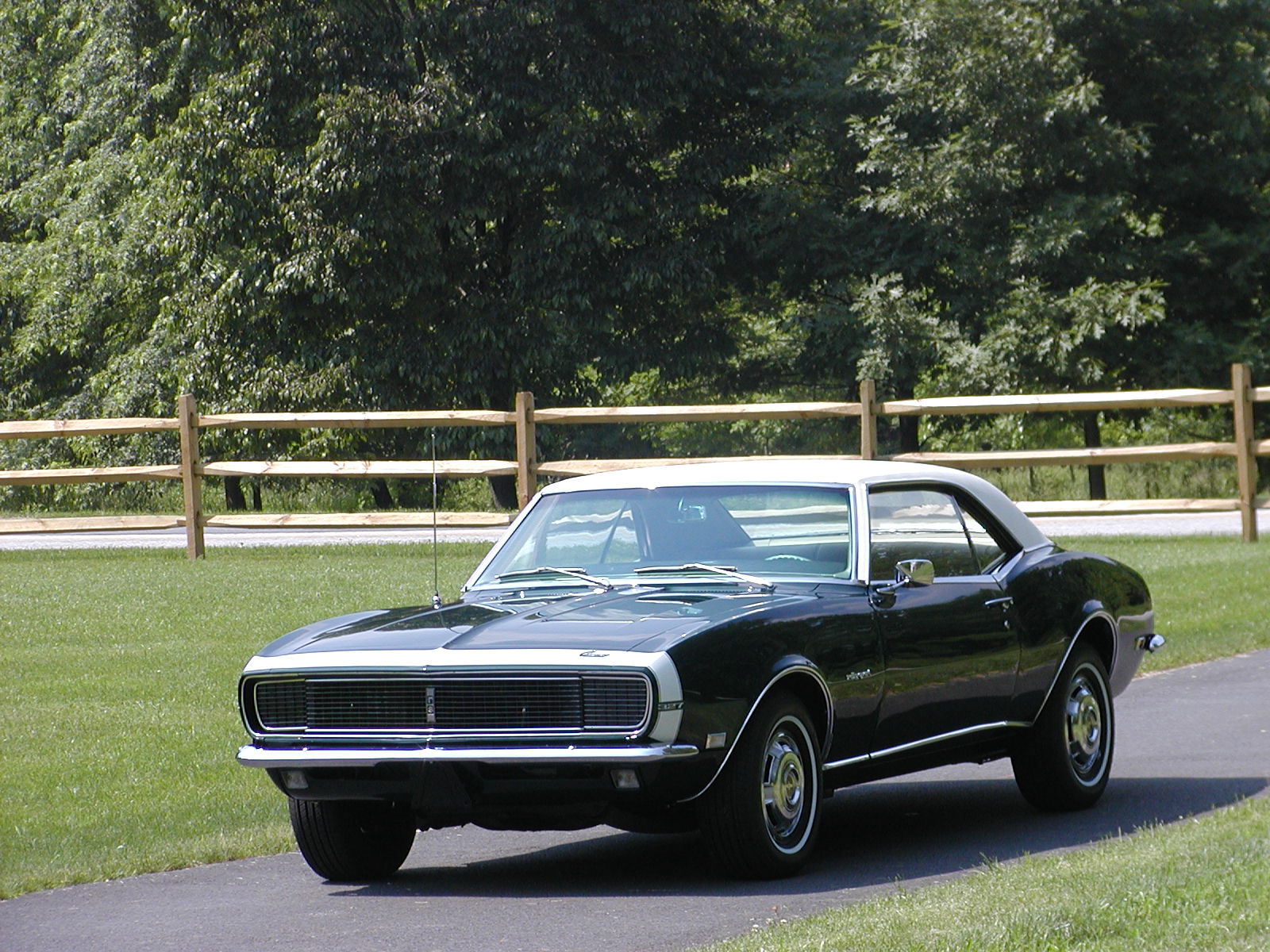 Click the following for a directory of more exterior photos of the completed L30/M20 - more photos. A goofy smile on my face after I hear the engine start again in Ken's garage for first time in more than seven years.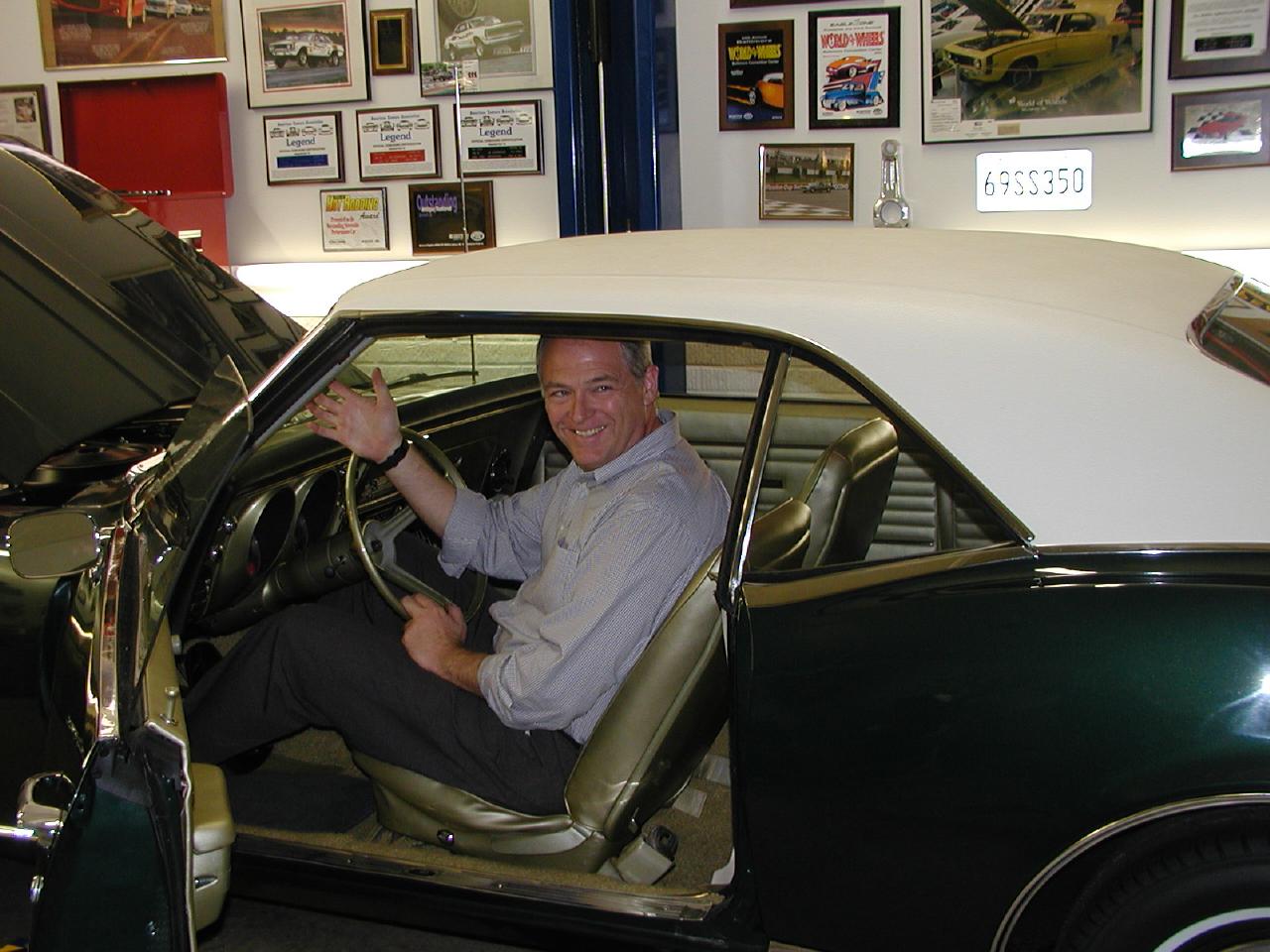 Updated interior shot with restored steering wheel.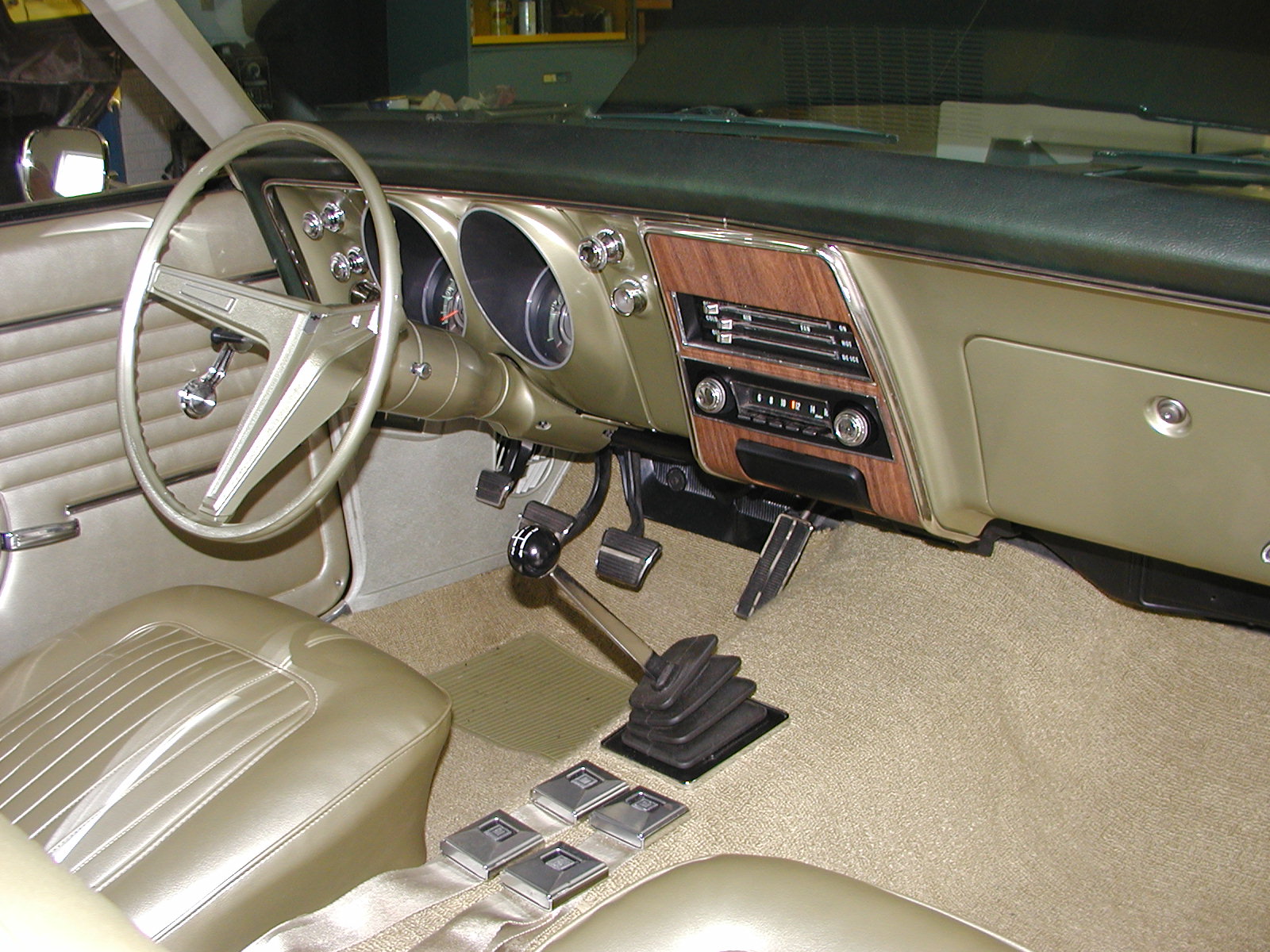 5May2004 - Ken has completed the steering wheel resto and patched a hole in the dash (see above). Some unfortunate nicks in the passenger door due to previous garage storage caused that door to have to be repainted, but having the exact paint formula previously used (thanks for saving it, Rick Ager!) was a huge help, and an exact match resulted. A small dent in nose was also removed. Jerry replaced the throw-out bearing, as the previous replacement was noisy. About ready to go now. Still having issues with a couple of the gold interior parts, but they will have to do as-is for now. 23Apr2004 - Seven and a half years (yeah - that's right) after start of the project, a photo above is of me sitting in the nearly done L30/M20 in Ken's garage after hearing the engine start; the first time in seven years I've heard it. Jerry's drivetrain work was awesome, and Ken has done a fabulous job in both detail trim/assembly workmanship as well as the undesirable job of sorting through my dozens of boxes of parts (with many spare or not-related junkyard-find parts adding to the confusion of a long-distance final assembly). Only a few more small things left to be done. Plan is to give it its first public display at Carlisle 2004 in June - so on track for that. This the car that led to the full definition and documented recognition of the 1967-68 L30/M20 Camaro, and - as such, also played a role in the formation of the Camaro Research Group. 17Apr2004 - Jerry and Ken and Don have nearly completed final assembly. Progress pictures below, showing soft ("technically incorrect") door panels, radial street tires. and sans wheel covers. Car is to be a "show driver", so I haven't attempted to install certain show pieces (spiral shocks, bias ply tires, etc). Steering wheel was still being restored as of this time, and a few trim pieces remain to be sorted out. The rebuilt L30 (327ci/275hp) engine in its refurbished engine compartment: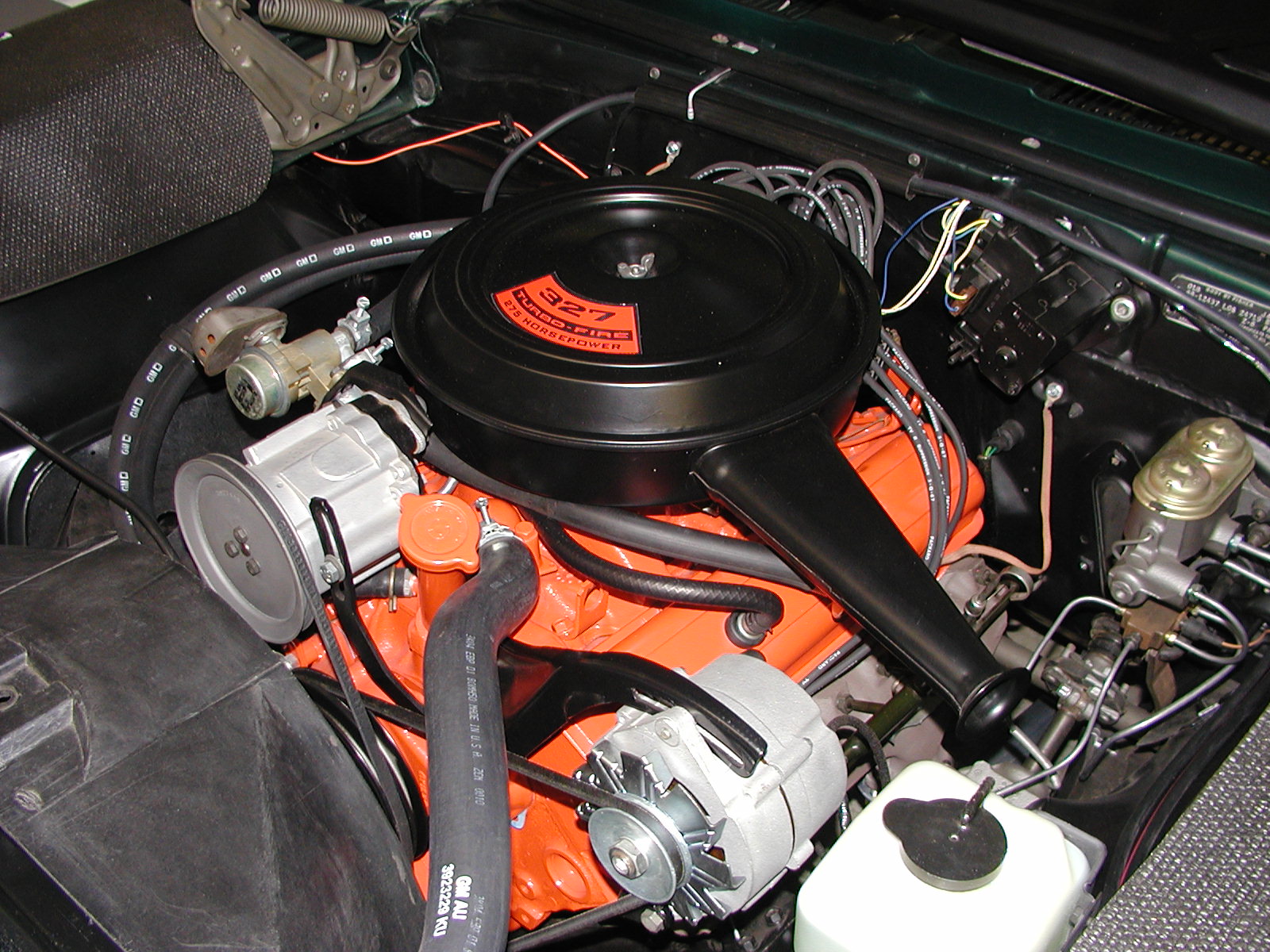 Looking up underneath, with re-built 12-bolt rear axle, multi-leaf springs, and installed Gardner exhaust: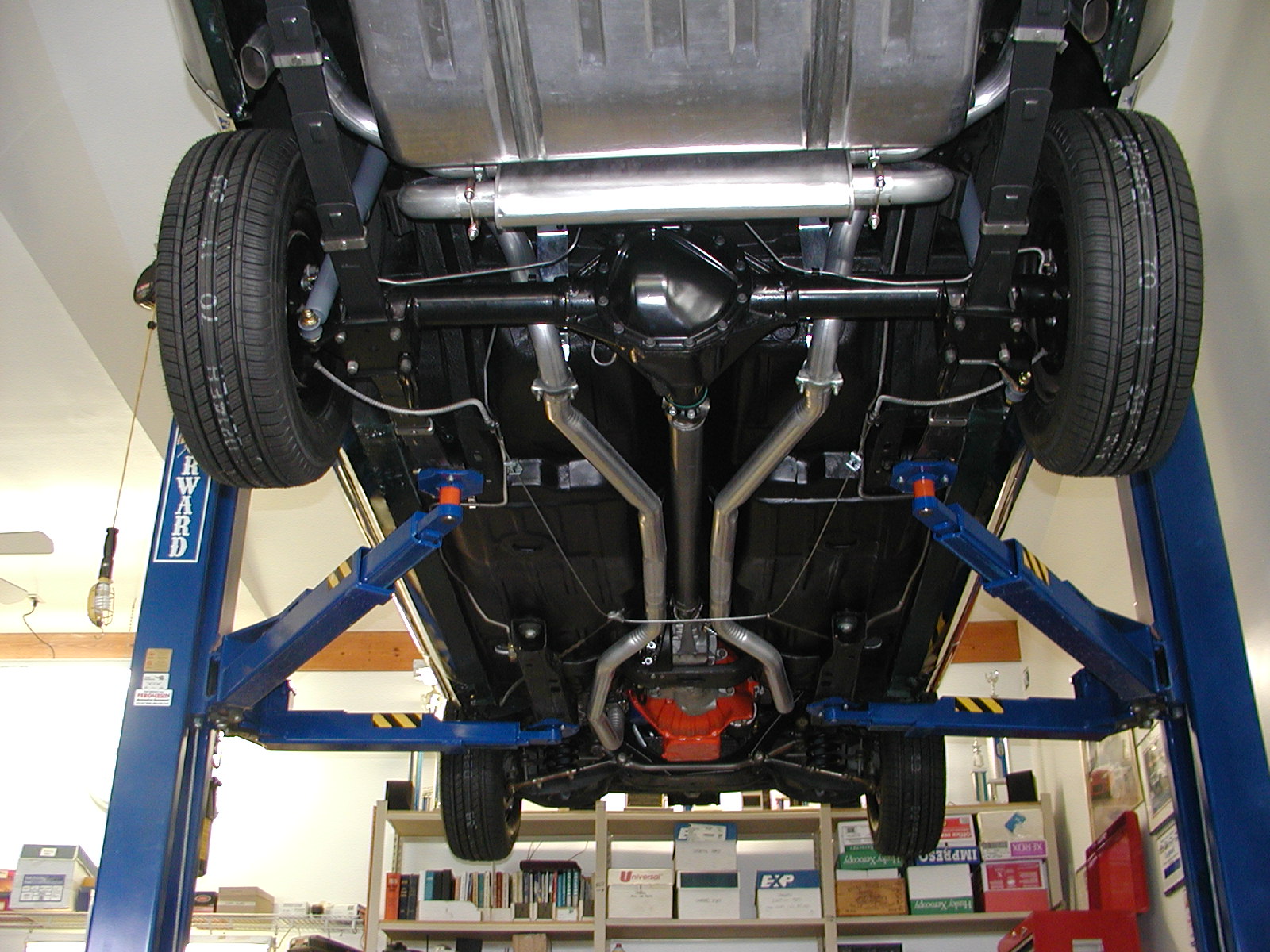 Links to other shots: 4Oct2002 - Started this little progress page three years ago; the story is badly out-of-date, but this is all I have time to document at the moment. The car has just been moved to Jerry MacNeish's in Maryland for final assembly, as I've run out of facilities and time at home to do the rest of the work. This is the car body in 2001, the year before it was moved to Jerry's, after extensive metal work, paint, striping, and replacement of the vinyl roof - most of this was done out of Rick Ager's former shop (or other area subcontractors that he used) in Winter Springs, Florida.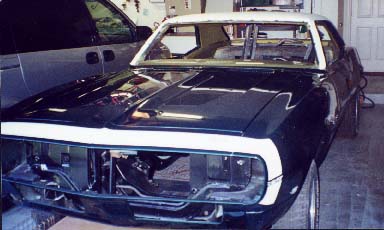 Start of the restoration
I bought this car after a 3-month search, in November 1996. I found it in Ocala, FL, in response to an Auto Trader ad for an SS350 (I'll post a copy of the ad sometime). The car had the SS hood and badges, but upon closer inspection was found to be a L30/M20, 327ci/275HP 4-speed car. After purchase I did a state-by-state title search, from Florida to Kentucky to Virginia to Kansas. Fortunate not to have lost the trail, I found out that the car was originally sold to Stanley H. and Donna Grigsby in Ft. Collins, CO, on 10 May 1968. A barely readable copy of the Manufacturer's Statement of Origin from Chevrolet at Van Nuys, California was included in the last title search. The car was transferred from Chevrolet to Poudre Valley Motors (still operating today as Dellenbach Chevrolet, 3111 S. College Ave., Ft. Collins, CO, 80525, 970.223.4414 or 303.226.2438) on 9 Jan 68 via invoice KL143xx (last two digits poorly legible but perhaps "35"). There were a large number of intermediate owners of the car, but the first owners kept the car until 13 Aug 1982, more than 14 years. I was fortunate enough to track down Stan and Donna, and were they surprised! Since then, and a number of phone calls and emails later, I have not only been able to complete an understanding of the original equipment and configuration of the car, but I have become friends with the Grigsby's. Stan and Donna visited the car in August 1998, and Stan saw it after paint in late 2000. Here are three photos of the British Green car when it was brand new, showing almost all of the options as well as its first owners. Donna and the gold interior, showing the N30 custom steering wheel which was included in the Z23 special interior option. It also shows the whitestripe tires, the P01 wheel covers, and the C08 vinyl roof, as well as some of the Z21 exterior trim that accompanied the Z22 Rally Sport option in 1968.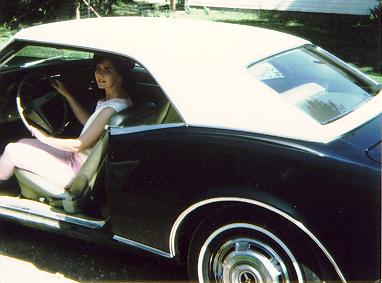 Donna in front of the RallySport front end.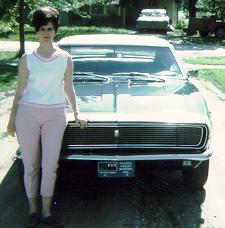 A view of Stan polishing his new paint provides a good view of the D91 stripe and the U63 AM radio antenna.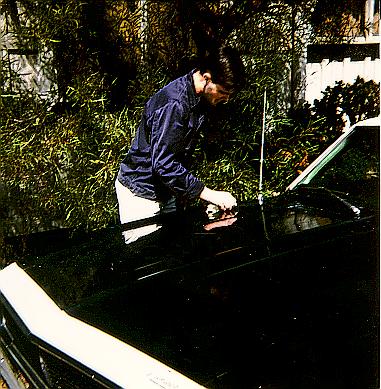 The car also had the AK1 custom deluxe seat/shoulder belts, along with the pairing of the optional L30 327ci/275HP engine and the optional M20 4-speed manual tranmission that defined the L30/M20 combination. After I began to strip the car to the metal it became quickly obvious that it (unfortunately for me) required an extensive body restoration. It is interesting how rusted the metal was in certain areas (rear quarters, trunk pan, and front windshield frame) - but how good it was in other areas (floor not as bad as first feared, and subframe in very good shape). A liberal application of original undercoating helped keep the rust down over at least part of the car's underbody and probably saved the car's life.
The windshield frame was rotted out. As the previous bondo patches were stripped off and the entire section cleaned to bare metal it became obvious that the frame was too rotten to easily repair by welding in patches. No 67-68 donor cars were to be found in Central FL that weren't already in trouble with major rust. A decent 69 roof was found, but there are differences in the front roof structure, plus it had already been cut from the donor car cut above a portion of the left A-pillar that needed to be replaced. A fellow CRG member, Martin Foltz, found me what I needed in S. California just before the donor car was crushed.
A shocking "sunroof" version of the car shows the body after the old windshield frame was removed but before splicing in the new one.
Right front view of new windshield frame. The donor car had been extensively stripped, but it still had a fine windshield frame remaining. The extracted piece was awkwardly shaped and cost a lot to truck freight from CA to FL, but was worth it in the sense that it was a correct car (68) also built at the LOS plant (as mine was) and was almost totally rust-free (one small pin-hole) with all the window frame tabs intact. (The new full rear quarters had already been installed at this point, as had a new right rocker. I'll catch up on documenting the intermediate work another time.)
Right side view of new windshield frame. The donor section was spliced as a step joint, which is very good structurally. The outermost upper connection was made at a factory joint at the front corner of the drip molding. Then a notch was made farther aft in the donor metal (where a piece appears to be missing) to allow access for welding the original side frame to the new piece. After this picture was taken, the overlapping sheet metal in the roof itself was trimmed flush and the sheet metal butt welded and ground flush on top. The A-pillar was welded at the root in place of the old one. Everything was tack welded in place and position verified before the final full weld passes were made.
There was very little major rust on the subframe. Some usual battery acid surface pitting at the right front, but not severe, and it'll be covered anyway. The rest of it was pretty mint after the undercoating was removed and it was cleaned. New tie-rod ends, ball joints, and bushings. The rebuilt front subframe, painted semi-gloss black. At this point the subframe is nearly finished. Looks good here but you can see a light coat of body shop dust over the new paint.
A very ugly underside view of the transmission tunnel shifter hole before repair. A previous owner had hacked a large hole in the driver's side of the tunnel, apparently for to allow access for a custom shifter (a typical early modification for "hot-rodded" first-gen Camaros).
Left side interior view of the replacement transmission tunnel section at the shifter hole. Rick Ager found a FL donor car just prior to being crushed that still had the intact tunnel section, complete with the underside shifter hole "window-frame" reinforcement that you can see half-gone in the previous photo. At the point of this photo most of the welding has been completed from the underside; topside welding remains, along with grinding the welds flush.