...a brief update this,
Another evolution/iteration of the instrument cluster for essentially starting again with a new panel is seen below, whereas scale Dymo labels as well as turned aluminum toggle switches might further be added. Sorry for the fuzzy photo image - look away quickly lest a headache form!
The second image reveals efforts to search for appropriate fonts for what in time will be the artwork for the livery. Given this will constitute my first effort to create decals for something of my own, good it is that most elements present require only a black outline as contrasted to the difficulties posed by other topics and other comparatively complex liveries. Here I take a stab and all that I've seen on the car less hood artwork across the entire '71 season. The 'Tempest by Trans/Action' identification appeared mid-season and is almost never visible in photos, whereas hints of driver identification on the roof is seen here and there and is clearly not reproduced below. Lastly, my 'Quaker State' typeface options thus far are clearly substandard, whereas better numeral art is coming; i.e. taller and slightly better shaped too. Not terrible though...
Mike K.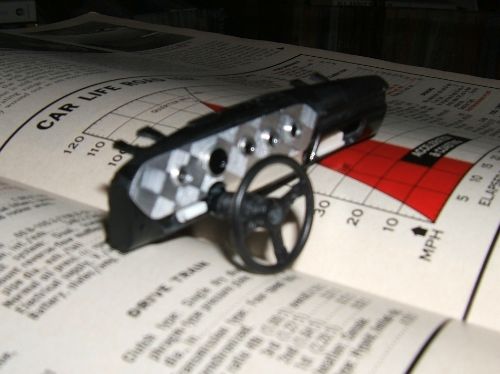 M.K.