16
« on: December 09, 2016, 01:16:50 AM »
While talking to a few buddies the other day and telling them about some memories that I had of me, my dad and my 69 Camaro it prompted me to dig up some old pics and to tell the story about my first car...
This is the story of my first car.. We got it back in 1989 from a little old lady which at the time was in her 70s. The car sold new at our local dealership of Wilson County Motors by her neighbor across the street. After a few years Mrs. Brockett bought the car from her neighbor and drove the car daily for many years. Sadly in 1978 she and 2 of her friends were T-boned and the car was parked surprisingly enough at her neighborís house across the street in their garage. 11 years go by and the car is forgotten about by many. My father being the Camaro guy of Lebanon and always looking for cars to buy, sell and trade heard from another gentleman that he knew where a 79 Camaro was that had been sitting for many years.. Now at the time I didn't have much of anything money wise as I was just 11yrs old but I had saved up a couple hundred bucks from chores around the house and mowing years, birthday money, Christmas money etc.. Dad came home that day and told me about the car.. I have to be honest when I heard it was a 79 I wasn't that excited and honestly didn't even want to waste the time to go over there to see the car.. But after agreeing we decided we would go look. The next day which was about a week or so before Thanksgiving; dad gets with the guy to find out where, when and who we needed to get in contact with to see the car.. While getting all the info the guy would say 79 and then a few minutes later mention something about a 69.. Dad said wait a second; is it a 79 or 69..??.. The guy admitted he couldn't remember but he knew it was one or the other. So that weekend we headed over to Mrs. Brockett's house in our '76 Nova SS with another buddy Flynn just in case we needed an extra set of hands or driver.. When we got there this frail little lady came to the door and we introduced ourselves and she said "Oohh yes so and so said you wanted to come look at and maybe buy my old car!!".. As we walked across the street and got the neighbors garage I was boiling over with anxiety and excitement.. Remember I was only 11 and a young Camaro nut that was taking after his father. Mrs. Brockett made the comment; as we stood there in front of the garage door waiting on the keys, well I hope you boys know what you are doing as my insurance back then said that the car was totaled so we just brought it back and put it this garage and honestly forgot about the ole thing.. At that point I didn't know what to expect but as the garage door swung open it was like we were archaeologist opening the tomb of some fallen king or great warrior..!!.. Well it definitely wasn't a ZL1 (king) or L78 or Z28 (warrior)... But it WAS a 1st gen Camaro!! After looking it over and seeing the damage we agreed upon a price and we began process of rolling her out into the daylight. Once we got the title in hand, the logging chain tied to the frame of the Camaro and to the bumper of the Nova, dad hopped in the Camaro and tossed Flynn the keys to the Nova and said take it easy as I donít know how good these brakes are.. As we tore outta there with the Camaro in tow Flynn looked over at me as he grabbed a pair of my momís flowery sunglasses (he had forgotten his in his car at the house) and said; "hey you wanna mess with your dad??" Of course I wasnít much on pissing off the old man but for some reason I thought it would be funny so I said; Sure!!.. Flynn matted the gas and we were doing 70 in no time.. Now remember this was the weekend before Thanksgiving and it was colder than a well diggers ass that day and the passenger side door & quarter glass on the Camaro was busted out and it had sketchy brakes at best.. As I looked over the back of the front seat I see my dad holding his arm out of the window shaken his fist at Flynn I knew that I wasnít gonna be the one in the cross hairs when we got home.. Needless to say, we made it home safe and after threatening to whoop Flynn's hind end; we all got a good laugh about the adventure of the day..
The 76 Nova that serviced as the tow vehicle for the day.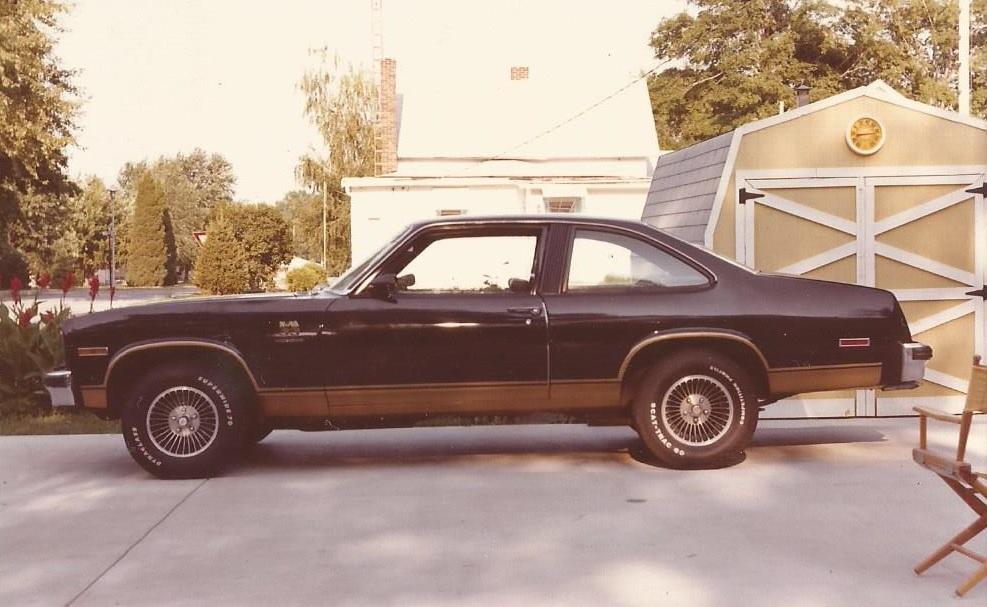 The 69 as we saw it for the first time in the neighbor of the owners garage.