Greetings,
After a long silence - a return. Very kind thanks to Jon Mello and others for the support afforded during an exceptionally uncertain time which I truly hope is behind me. I greatly value the support and informed feedback afforded here at the CRG in the past, and eagerly hope such may continue. Again - my great thanks for the tangible sense of community availed.
Consistent with a certain proven inconsistency of focus, here is witnessed what is now a pair of 1970 season Autodynamics Challengers last seen in 2010. These are 1:18 Hwy. 61 tools that form the best platform for replicas of such in scale. Continuing, common it is for me to fabricate parts to accommodate most specifications of a particular racer as seen across a season, whereas I'd accumulated enough parts to effectively fit out a #77 Laguna Seca entry as I've reacquainted myself with the #76 Kent project which was seen within earlier posts of this very long thread. If anyone is determined to mount the courage to stare down a 1:18 Hwy. 61-based E-body SCCA Trans-Am project (among others), I may be able to help out for territory explored and mistakes made.
Resin casting of key elements scattered across both these cars will allow this builder to fit out a pair of AAR 'Cudas with most shared elements, with allowances made to modify parts that will nevertheless be easier to fabricate using basic shapes saved from the Challenger projects; i.e. the front upper control arm inner wing/inner fender pockets will be modified on the AAR 'Cudas reflecting AAR's specific desire to have greater shock absorber travel to match the one inch lower ride height spindles that weren't shared with Autodynamics. Apparently one must be on guard to be certain that all the trick stuff is afforded upon delivery of a rolling chassis!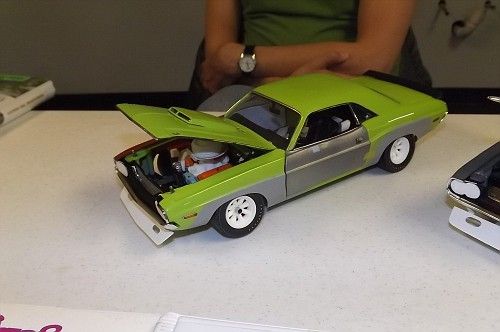 ...the 'new build' #77 awaiting lip flares to the shell amongst other things. And yes - that daunting physical presence seen behind the table is me...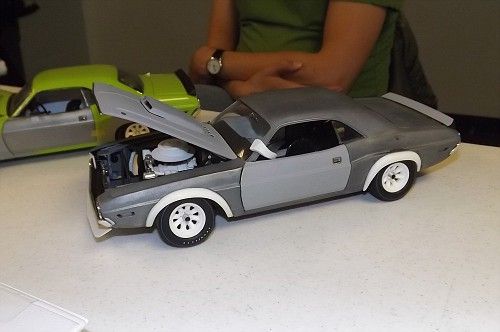 ...the 'old' #76 stripped of some items in anticipation of casting each to share across builds.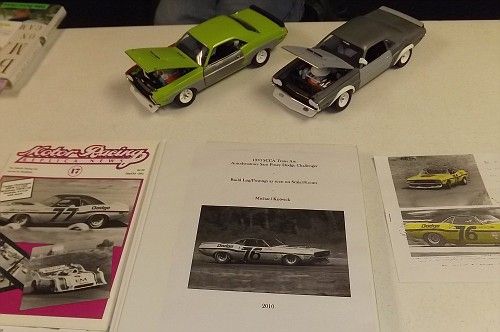 ...and a family photograph of sorts complete with what is now one of two research folders.
Kind regards to the board - as always!
Mike K.