Greetings,
Some further refinements to a 1:25 Jo-Han (John Hanley was the name of the original owner - and hence now you know) 1970 Mark Donohue Trans-Am Javelin with the Jimmy Flintstone resin bodyshell complete with flares. Note that it has a scratch-built late-1970 season front spoiler intended to be aluminum with a pair of lexan extensions (note the split), whereas the brake cooling inlets are situated high up the assembly. Viewed face-on they appear small of section top-to-bottom, although when viewed at an angle they make good sense for the inlet is positioned to route air down at an angle just below the bumper stamping headed rearward.
Other things attempted are both numerous and discreet. A better front tire has been mastered utilizing a mid-'60's MPC kit release Goodyear Blue Streak Sports Car Special sidewall with the tread (such as it was) of a late'60's/early '70's MPC Goodyear Blue Streak NASCAR tire. The tread of the latter was cut from a flexible vinyl kit tire, trimmed to reduce the outer diameter of such, and then glued fast to a round plug to which the better sidewall detail was glued. Nice width, a good aspect ratio - a job well done.
The rear tire is the late-season spec. '70's MPC Goodyear Blue Streak NASCAR fitment, albeit increased in width about 30%. I'd ordered and contemplated the use of Perry's Resin Trans Am wheels and tires, but wasn't entirely sold on their use in 1:25th scale as contrasted to 1:24th. Given this, what is seen here was worked up instead. I intend to cast these in pliable two-part tinted resin, and employ the results across my 1:25 Jo-Han Javelin projects to-be. Perhaps a '68 and '69 RKE Javelin someday? A '69 entry would be especially fun given I've never seen such done in scale, whereas not so long ago there really weren't sufficient available photo images around to inform what needed to be replicated.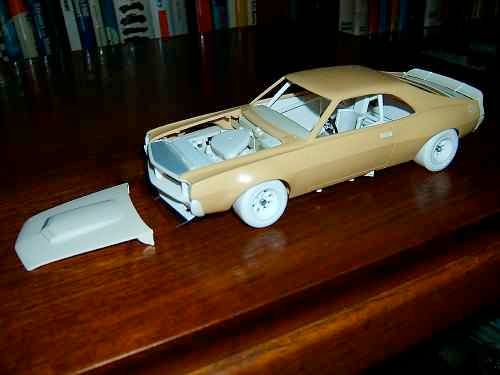 ...a nice Racemark seat employs two AMT NASCAR Matador assemblies to stretch out the bottom towards the knees. The seat edge detail didn't strictly exist, nor did the headrest extend out as far as it might - hence these aspects were scratch-built.
...brass grille mesh then. Inner wing/inner fender detail to be entirely redone from scratch, for not so much can be salvaged from what was afforded. Surely the most labor-intensive aspects of this project. The 'fiberglass' air cleaner housing is a resin casting of something scratch-built from before. The center 'hardware' is new, whereas a flexible soda straw will be cast, bent to shape, and sanded to reproduce the duct work needed heading away from the firewall to feed said housing.
A dimensionally shorter Jo-Han AMC engine was created for reducing the overall height of the block, flattening the base of the intake, and shortening the mains girdle area. Jo-Han economized when tooling the later AMC V8 for revising some aspects of an older tool without wholly committing to starting anew. Given this, the heads were wrong, the water pump and timing chain housing/casting are mounted far too low, and the intake as-delivered comes through with a noticeable dip visible front and back to fill in and disguise the use of an incorrect block. Worse - to house this too-tall assembly, all Jo-Han Javelins/AMX/Javelin-AMX tools have front crossmembers dropped to accommodate such. The use of the original tool engine results in a model that cannot be set at the proper ride height given the strange engine dimensions and everything done to disguise the use of it. Here most everything is fixed.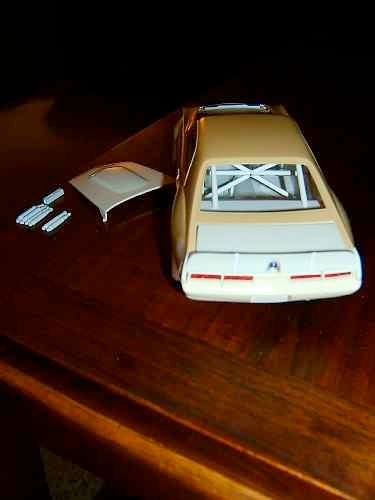 ...note the Panhard rod chassis mount taking shape, as well as the larger-piston/outer body KONI double adjustable shocks taking form behind two pair of stock '69 Jo-Han S/C Rambler kit parts. A bit longer, thicker across the top then. Though very easy to miss, the cast-in rear bumper has been removed entirely, with a two-piece plug now substituting for it.
A short, compressed wrap up then. Underside view depicts a 1:25 Jo-Han '70 Rebel Machine front suspension grafted onto their '70 Javelin Trans-Am chassis, with a '69 S/C Rambler rear axle 'hump' and trunk floor, plus overlaid leaf springs. The rear diff. is indeed an AMC Model 20 humorously afforded and supplied within a Jo-Han funny car kit (with keyed-axles - um-mm, I don't think so!). The leaf spring shackles are '69 S/C Rambler (one each from two kits given the shocks are staggered on the S/C Rambler, and not on this application), whereas I hope there will be enough room for the anti-roll bar (especially the odd clamped pickup points) and Panhard rod assembly in anticipation of creating like-assemblies for other (and usually larger of scale) projects.
The rear bumper seen has been narrowed as have been the rear indicator/brake light clusters for as-delivered the whole assembly is wider then it should be. Although puttied up and looking a bit strange, lastly one will notice the rear spoiler which employs the '71 and on ends which extend down a bit with late-season fueling inlet detail. As the '70 Mark Donohue kit comes through, the rear spoiler is entirely flat of profile across the rear base; i.e. not what was desired. Thanks...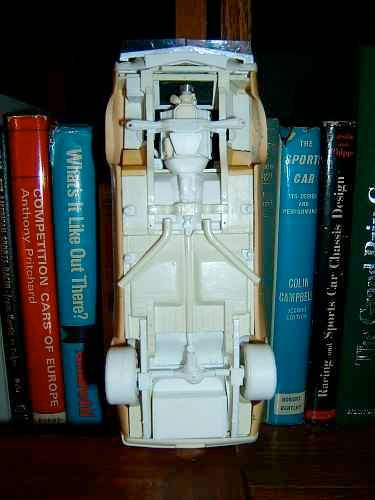 M.K.