Greetings and thanks for the kind interest displayed,
(...apologies for the images are quite large - a matter to be addressed soon)
Below can be seen the unfolding labors of my wheel and now tire project for period 1:18th Trans-Am topics. My efforts to produce my own resin Minilites with a proper spoke and outer rim lip design has gone well enough, although to date I've relied upon old GMP tires that are of scarcely different size front to rear, are somewhat square of shoulder and further, feature a wet weather tread design. That 1:18 GMP Trans-Am wheel and tire sets have become both rare and pricey when they do surface on the market has served as an additional prod to come up with other options. And oh, the Autodynamics Challenger images seen depict what were likely open practice shots captured early season at Bryar, NH.
Continuing then, a two-part urethane casting was taken of a 1:18 ERTL Goodyear Blue Streak tire (actually the front and rear) as found on a much older Cobra 427 SC tool, whereupon a pair of castings in two-part white resin was produced to facilitate the narrowing of each tire (one tread 'rib' from the front, two from the rear) whereupon a sidewall was thinned and cut before being glued to the bulk of the tread and sidewall from the first casting. I wish I could claim all this was done employing a hobby lathe, but I cannot! Instead, a very large rasp file was employed to quite deliberately thin and plane each respective white resin casting before the quality of such was sufficient to glue my labors together.
Seen in the photos are the original GMP Minilites wearing the GMP tires (note the peg-like spoke design - yuck!), while just behind these may be seen the 1:18 ERTL Goodyear Blue Streaks 'as delivered'. Slightly further back can be seen my narrowed masters sans raised and angled GOODYEAR identification (see the IndyCals post to discern what I hope to apply instead), while the final set in the rear have been sufficiently opened up in diameter from the center to fit the resin Minilite wheels (less internal structure to fit into the old semi-hollow GMP tire). Next step will be the creation of urethane molds for the tires proper, whereas also seen in an image provided are sample pucks of material that vary in hardness and flexibility affording this writer various 'compounds' to employ in the final product. Lastly, a tint can be added to appropriately color the resin or urethane employed to generate an agreeable final product. Whew - much work here!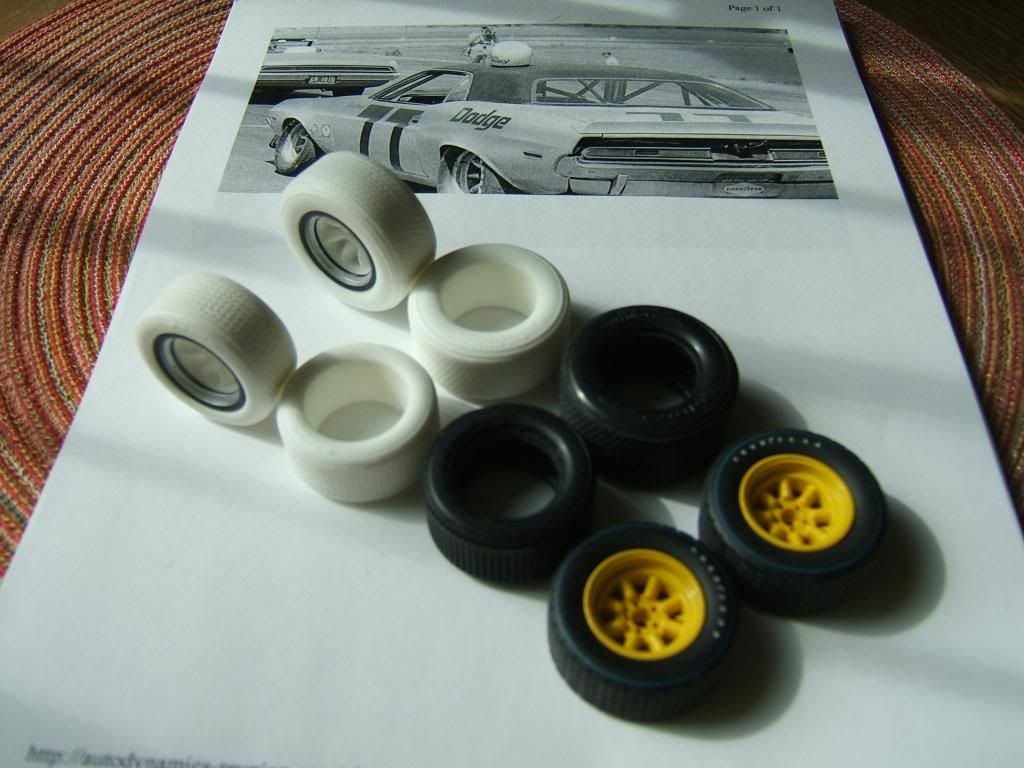 ...from front to rear the line up of options and stages to better proportioned and detailed dry weather period Goodyear Blue Streaks.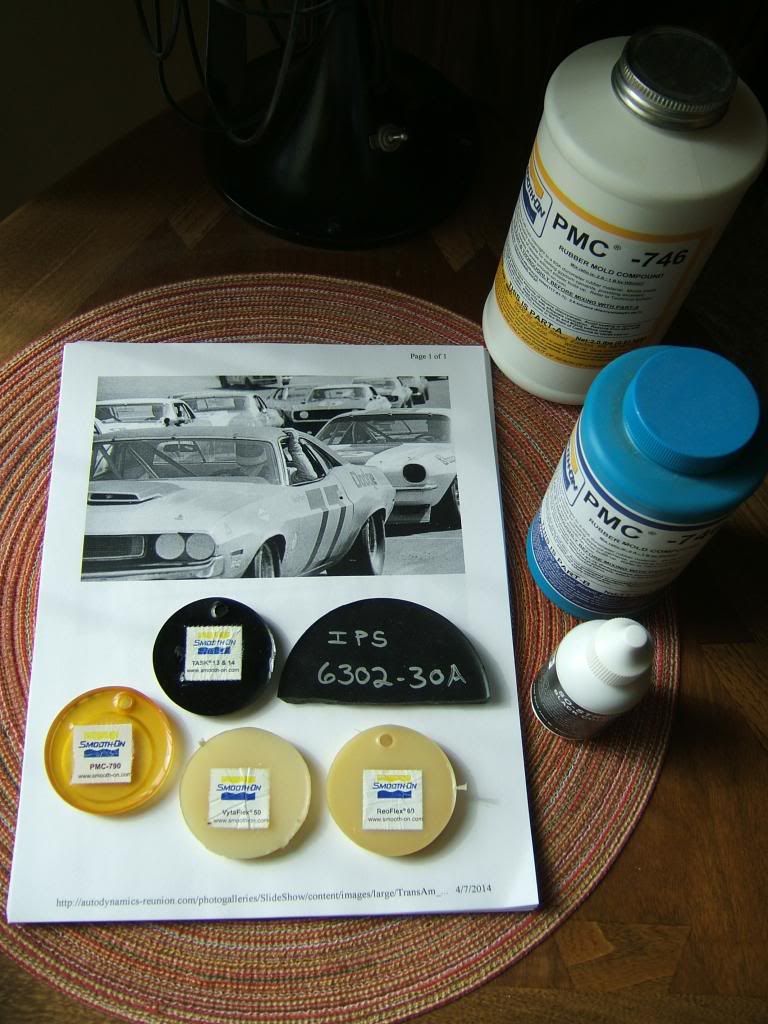 ...material pucks suggest latitude afforded with regards to that which the tires will be made of.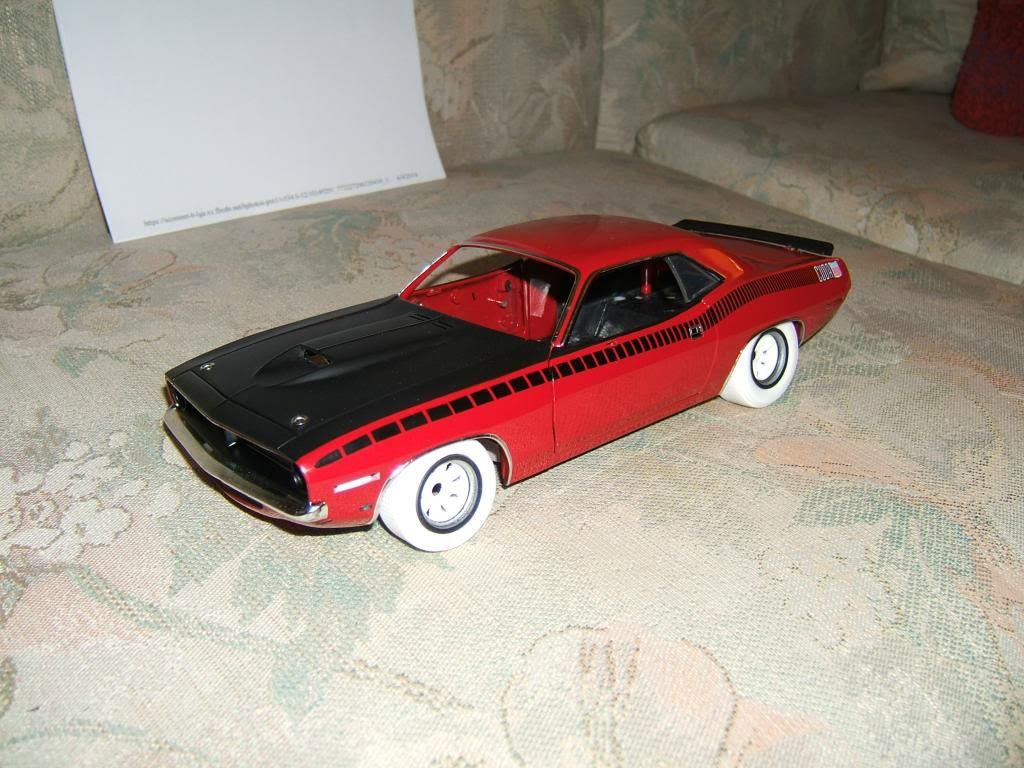 ...and finally, an experiment was conducted consistent with what was done on the period E-bodies to accommodate those enormous tires; i.e. a rear wheel house was extended on a spare chassis to the extent of removing material to allow space for a wheel and tire right up to the side of the rear subframe rail. Nothing is seen underneath nearest the front, although the right rear wheelhousing has been cut. What at point of departure resolutely would not fit now does with comparative ease. In addition and lastly, the aluminum wheel lips seen on the 1:18 Gray Ghost can be employed to help do a pair of AAR 'Cudas in the specification they were most often seen during the 1970 SCCA Trans-Am season. As always - thanks for indulging me.
Mike K.