Greetings,
A more substantive update of the 1:18 Sun Star-based 1964 Pontiac Tempest/1971 SCCA Trans-Am season Gray Ghost this time Ďround. Glacial pace, yes Ė but hey Ė this isnít just a few parts added plus livery.
Here a complete roll cage has been fabricated, though fairly simple of shape as can be noted. An odd design to the extent that no tubes extend rearward past the main hoop. For careful inspection one might also discern that a rear package shelf has been added complete with shoulder harness pick up points (two), the interior trim panels have been substantially trimmed and narrowed (i.e. necessary to afford clearance for the extent of the roll cage, whereas the dashboard still requires fitting), while GMP Trans-Am Camaro disc brakes have been added complete with dust cap (1:25 oil breathers) and axle end detail (GM-specific and scratch built). Looking a bit meek in the style of early spot/single piston caliper/solid discs, Iíve doubled them up (these having been reproduced in resin) and hope soon to add ventilation detail for use of a tiny rectangular section file. Proper caliper mounts and calipers to come. Track has been increased front and rear for adjustment facilitated for the redesign of how everything is mounted. A 1:18 Lane B.O.P. (Buick/Oldsmobile/Pontiac) differential housing is poised to be clayed up in anticipation of fitting the same to the chassis. At this point precious little has been done underneath but for a fuel cell housing, hence much to do there.
The bend upward of the cross bar situated just back of the front windshield is reproduced in a manner slightly less pronounced than what is seen on the 1:1 ĎGhost, although this reflects the fact that Iím working with plastic castings versus scale-thinness stampings and such must be accommodated. Given that the roof must be slightly smashed down even absent the roll cage to properly fit into place along the firewall, know that the dimensions tighten up further when modest pressure is applied forward. The bars penetrating the floorboards forward will eventually be mated to the frame members consistent with tying the structure together entire. Know too that the shifter housing/platform is indeed offset a bit if not bent a bit (versus prim and mounted strictly straight) on the 1:1 racer, the pedal configuration isnít final, whereas the seat rails/mount hasnít yet been fabricated (this being a mock up). Much floor work Ė especially looking behind the main roll hoop, remains to be done.
All-but-invisible is a new scratch built dual oil filter remote mount situated on the firewall (fifteen parts in total), an odd wet sump oil pan reflecting the choice by Team Trans-Action to recycle select T-G Firebird team parts (here a design used to accommodate 180 degree headers tested in Ď70), as well as revisions done to the fuel cell and fuel delivery system categorically unseen in the trunk. The seat headrest is now sited with brass rod, while all I had to go on with regards to the configuration of the same is the old Motor Trend image roughly suggesting such. Lastly, the beginnings of a large Harrison oil cooler to replace the somewhat mousey original GMP Trans-Am Camaro rendition of the same may be viewed resting apart from the model in some photos. Top and bottom detail needs to be added, whereas the flange/mounting detail is an easy matter to create and yet isnít present within photos.
Fabrication takes time, whereas rendering additions consistent with affording the entire work an organic appearance is a challenge. Many modifications work best when they canít be strictly detected, whereas configuring a first prototype involves pain. Kind thanks...
Mike K.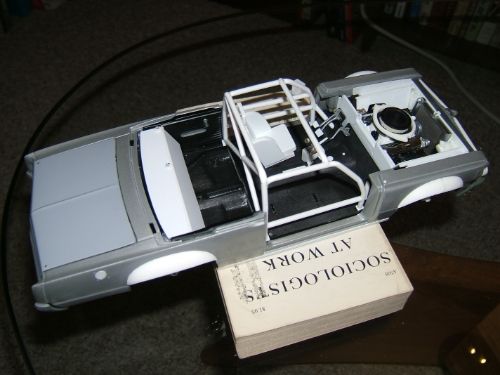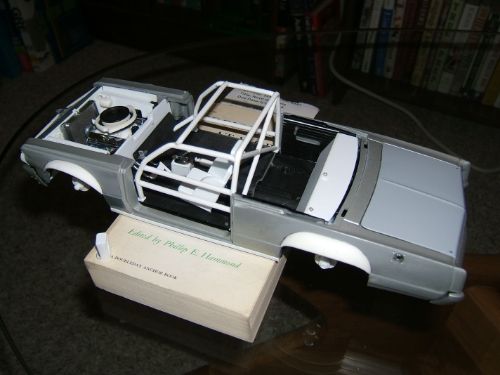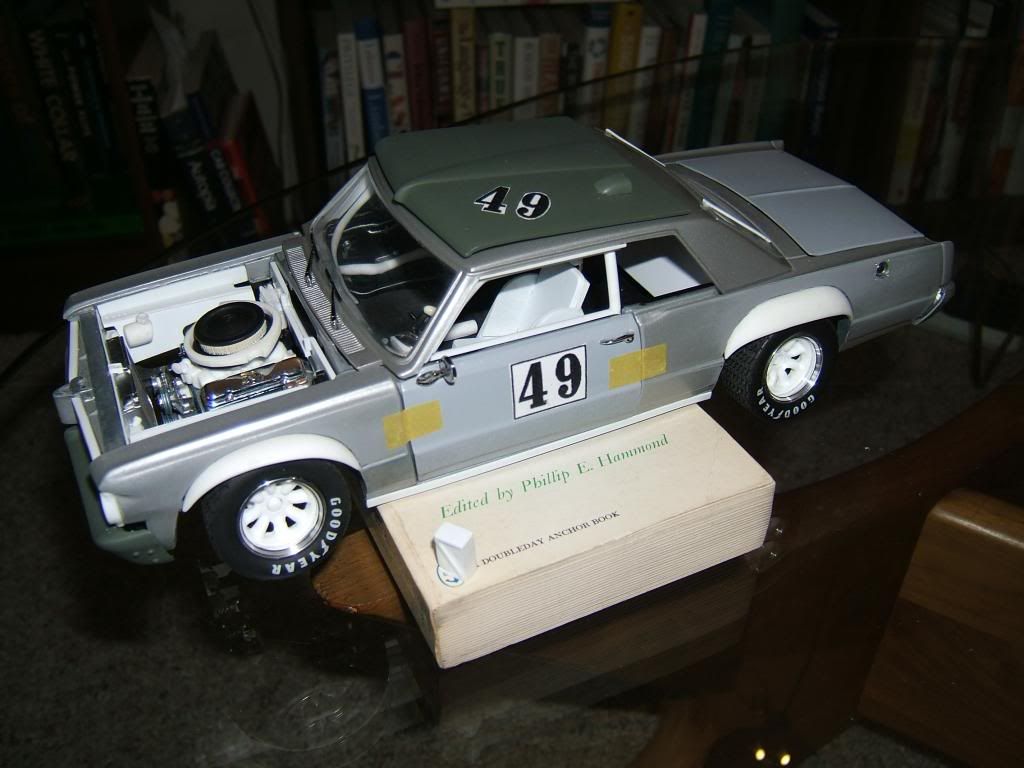 M.K.