Greetings and thanks for the lasting kind notice,
I had failed to note over the course of weeks that interference encountered for fit between the front half of the roll cage was in fact attributable to interference between the transmission and a too-shallow transmission hump as meagerly reproduced on the Sun Star interior floor casting. A brief attempt to mate a 1:18 ERTL '70 1/2 Camaro transmission and drive shaft tunnel to the Sun Star casting for removal of its aforementioned transmission and drive shaft floor hump led nowhere, hence the reluctant decision was made to scratch build the floor pan as viewed from above. If the original tool yielded such detail as manifest as nuanced and accurate contour I'd not replace it soon, although in point of fact what was provided isn't much more than a flat plate. Although dejected to forced to employ it and puzzled if you will as to what can be done to add some character to this flat thing, there seemed very little reason to clutch to what wasn't working.
Other factors influence the decision. The engine and transmission assembly is set back about an inch from standard on the 1:1 topic, while the transmission overrides the transmission crossmember. Especially as viewed with the hood open, the whole engine and transmission is nearly level as installed and in modest contrast to the usual dip from front to rear. Given that this racing vehicle is substantially lowered, the differential is higher too, while less angularity between it and the tailshaft of the transmission is of course welcomed. Yes - it seems they knew what they were doing! Small matters of detail that may be noted are slightly repositioned hood art (to be photographed and kept in reserve for guidance as to placement post paint application and polish), as well as a front track reduction and recycled GMP Trans-Am tires sans lettering given any decal application will surely be ruined for handling at this stage and point. Yes - it goes on...
Mike K.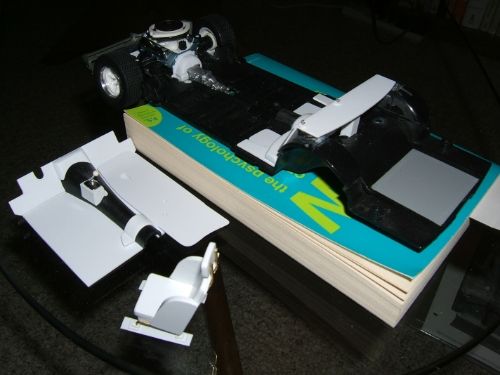 M.K.