Thanks Jon for the kind interest and especially the spread of recent Donohue Camaro images seen above!
Greetings,
A considerable pet peeve harbored by this modifier is the reality of tire licensing deals that too often translate into period scale rubber bearing all too contemporary fonts. Firestone shod racers arenít entirely immune, although in the case of many a Goodyear-shod racer, the too-visible-by-half lean to the right in particular undercuts whatever period-correct illusion one would otherwise clutch to. The Hall of Shame of those models plagued with somewhat silly footwear includes the Exoto Porsche 917ís, the 1:12th Minichamps Maserati Birdcage, while readers here could doubtlessly identify other egregious misfires of conception and execution. One could say much the same for 1:1 vintage racing topics besides, where old molds are reemployed to create new examples of old designs though the stark declarative sidewall lettering of days past somehow gets lost in the shuffle. Not good, and something that could be improved upon looking forward.
For the 1:18th Gray Ghost Iíve been clutching to a single photo depicting the vehicle on a trailer at Bryar, NH. in í71 with the car wearing the larger declarative ĎT.V. tiresí more akin to what had become de rigueur in Winston Cup/NASCAR circles. The car just looked so sinister, although in truth I hadnít a single on-track shot of the car so-fitted with the larger-lettered Goodyear Blue Streak Sports Car Specials. In point of fact many races seem to show the car sans any sidewall identification Ė odd this.
Returning then to the topic of scale Blue Streaks, the blue ring tires pretty much vanished from the tracks late the season the year before, although smaller lettering was long a feature of Goodyear road racing rubber; i.e. people know and expect to see it. Eventually the sidewall raise white letters seen on the Blue Streak Sports Car Specials had their aesthetic corollary in the ubiquitous Polyglas GT tires installed upon nearly every Detroit enthusiast vehicle of the period. In short, I canít deny that the usual fitment on the Gray Ghost called out for the less prominent font, set straight and definitely less blue rings.
Although not perfect, what is seen below constitutes a stab at a solution. 1:18th options for what I desire are scant, whereas negotiations with a prominent online supplier to revise and/or correct his product went nowhere. Anyhow, the experiment seen below was performed with a 1:25th Slixx drag racing tire decal set which includes rear slick sidewall tire manufacturer identification decals that are larger than the usual scale offerings. Too tightly spaced to really afford me what I want, each letter was cut out separately and positioned independently on this test tire positioned just to the left of rear wheel arch in the photo. And yes - I'm still torn as to whether I should apply the gray/violet barrier coat or a semi-gloss black finish to the wheels for this first-half of the season car. At present I'm thinking this will be a Bryar, NH entry.
My fingers go numb when I think of the labor involved in converting perhaps nine models over to these markings, but the improvement is undeniable. The GMP Goodyear font employed on their period Trans-Am tires isnít terrible, although it is scarcely visible for having been rendered too small. Iím thinking then; i.e. do I really want or need to convert everything over in a single go? Quite nice even sans clear coat work to eliminate the usual carrier film ugliness. Thanks...
Mike K.
P.S. Apparently a 1:25th scale Fred Cady decal sheet for period Jaguar and British Leyland topics of note will supply the needed Quaker State script. An old Quaker State flag decal image was also sourced for searching out and about and is also seen below. I wasn't having much fun in my quest to identify appropriately tall lettering, and here express relief that in sum such wasn't that hard to come up with. Three sizes to play with on the old Cady Designs sheet, whereas here and there one will still detect the care he exercised upon his products; i.e. the flag decal is pretty much a waste, albeit the stand alone lettering is quite good. Many scale replicas of period racers fall down for rushing the accessory artwork; i.e. the stuff is poorly registered, off-color, and of incorrect scale. This project should be better in sum - thanks for reading!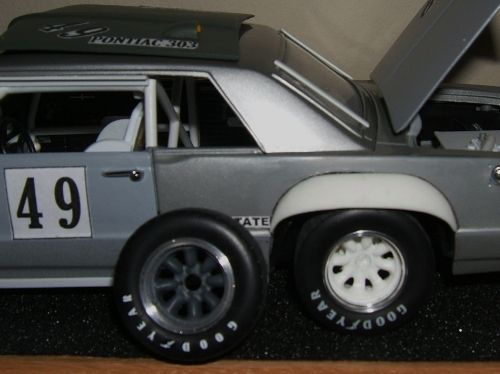 -
M.K.