Off to MID-OHIO. Penske with George Follmer driving, Jerry Titus with Mustang, Bud Moore with two Cougars and a bunch of other slugs like us. The Bud Moore Cougars were probably the most radically modified cars from the viewpoint of visible changes; fenders cut for tire clearance and stripped of most everything that didn't rotate. The difference between the factory cars and private cars was significant.
Practice and qualifying for us was not much different than Lime Rock had been, engine still overheating but now we had also picked up a very significant push in the front end. We had left the rear spring leaves that GM had told us to take out at home so we changed the front sway bar and hoped that would help the handling to some degree. I went to the Penske pits to see if they had any suggestions for the overheating problem. The only person there was Follmer and he would not even talk to me. After practice when we were leaving the track, Roger Penske walked up to our tow car and suggested we use softer springs in the front because he said it looked like the front was out of sync with the rear. He also suggested an aluminum radiator might help with the heating problem.
Race day, the hell with it! Let's run it and see what happens. I don't remember how long we lasted but we ran it and at one time I think we must have been in the first ten or so cars and all of a sudden, she blew up. I coasted over to the side, stopped and walked back to the pits. A spectator gave me a cold beer to drink on my long walk back. So much for Trans-Am.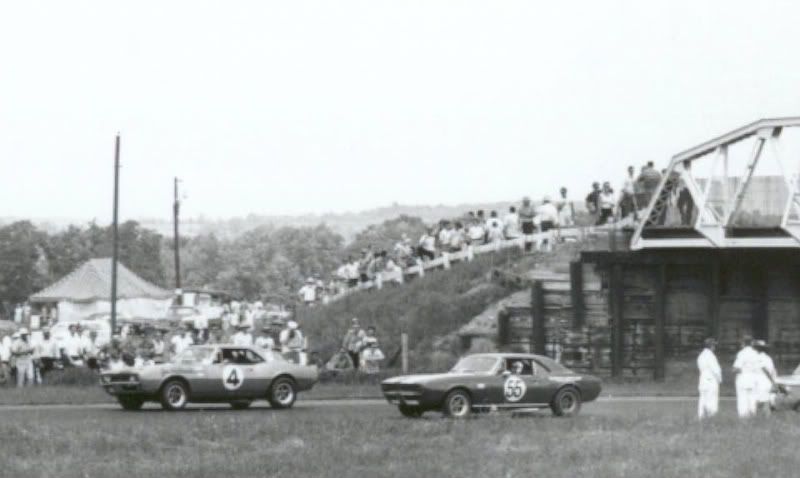 Mid-Ohio Trans-Am, June 1967 photo: Petersen Publishing