Below is an in-depth interview with Robert Barg. Robert was the second owner of the 24th '67 Z-28 built. It was a red Z-28 with the rally sport (hidden headlight) option and was originally purchased by Maurice "Mo" Carter through his City Chevrolet dealership in Hamilton, Ontario. Mo did some rally and road race activities with the car before selling it to Robert in late '67 or early '68.
Robert Barg
The Racing Life of a Privateer
(as told by Robert Barg to Jon Mello)
Mo Carter's red #8 at Mosport, Aug 1967 Photo: Phil Dauphinee
I got started racing in '61 with a Crosley powered homemade race car (that I bought) that had a cut-down Devin body on it – looked like a baby Ferrari. It was what they called a Canada Class car (similar to the SCCA H modified cars) and I ran a few races with it. I could never get the Crosley motor to run right (we didn't know much) so I sold it. I didn't start again till '65 because I got involved in a car business with two other guys and there was no time for racing till then. At first, I shared Rick Stevens' 998 Mini Cooper for a few races and then built one with another friend. I was, at one time, the D sedan lap record holder in Rick's almost stock mini at Mid-Ohio – set in Oct. '66. I had never been there before and actually passed many-time SCCA National champion Chuck Dietrich on the outside of turn one at Mid-Ohio on the marbles. He was dumbfounded that I would try and pass him there (didn't know any better). I had qualified near the back but had a great race with him and Bernd Leckow (NSU). I eventually finished a close third in D sedan.
I had a partner with the Mini who did the maintenance and he wanted out so it was sold. I felt I was ready for something more powerful. I had been driving a Corvette-powered '54 Healey around the street for three years so I felt confident I could handle something larger like a Camaro. When Mo put the '67 up for sale as a roller I jumped on it. I have no idea where the money came from – I must have gotten a loan somewhere.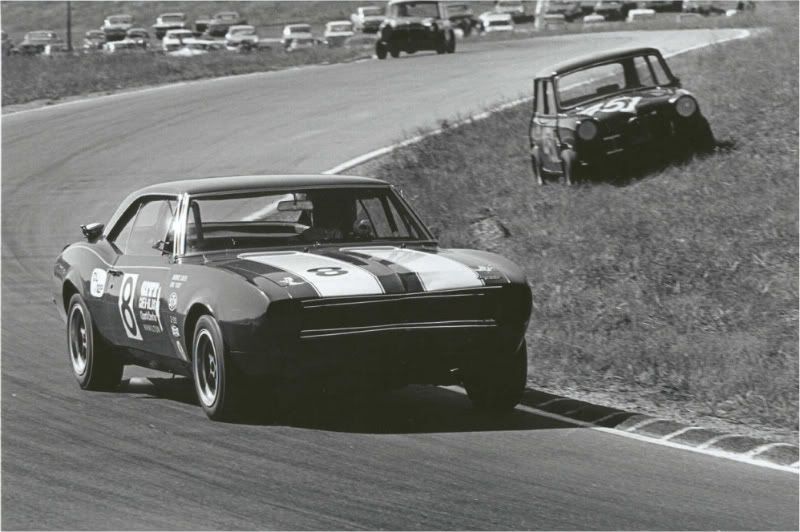 Mo Carter at Mosport, 9-23-67 Photo by Dale von Trebra
The '67 was actually Mo Carter's first road racing Camaro. Mo drove it in the '67 Shell 4000 [FIA-sanctioned Trans-Canadian rally] in early May, then had a local stock car builder make a crude road race car out of it. He did several regional races in '67 and also took it down to Watkins Glen. I bought it that winter as a roller for $1800. It had no motor or tranny and drum brakes on the back with stock street Koni shocks. When I bought the car from Mo it was still painted red, which I thought was the original colour from GM but I can't be sure. I raced it that same colour in '68 – it did not need paint.
I ran it in three regional races in '68 after I had a friend build a 302 motor for it and installed a fuel cell. If memory serves, I don't believe most cars had fuel cells in '67 but they became mandated somewhere around April or May of '68. I can remember smuggling a 22-gallon cell bladder, foam, and container over the border from Buffalo NY in early '68. Brian Robertson, my engine man stuffed the bladder and foam underneath the dash of the 401 Buick-powered '58 Pontiac wagon I drove that year as a tow car. It was a cell made by Donn Allen, I believe. We were nervous as could be trying to smuggle it across the border to avoid duty. It was an added race expense that Canadian racers had to put up with, as there was little in the way of racing parts produced in Canada.
Rick Stevens and I decided to test the T/A waters at Watkins Glen in August '68. The number we used for the race was 71 – I had been using the # 171 in my club races in Ontario. We did not get a handle on the car prep for the Glen at all. We were way slow in qualifying and the race. The car had some front suspension problems that got progressively worse and we barely finished. In fact I was going so slow at the end that during a yellow I waved Jerry Titus by and he got into trouble with the officials. I had to tell them after the race that I waved him by because the car was ailing. They were ready to take the race win away from him. He was very worried at the time.
Robert Barg at Mosport, 1968 Photo: Robert Barg Collection
At the end of '68, my friend Brian wanted his motor back so I bought the engine and then sold the car to Al Richards as a roller. Richards repainted it that nice Camaro "Marina blue" after he bought it from me. The next spring I conned him into going to Sebring and I would supply the motor. That's how Richards and I got together to go racing till the end of '72. I think he knew I wasn't the quickest driver around (not the slowest either) but the odds were I would bring it home in one piece after each T/A race, and that was important because we had no money. We were probably the lowest budget privateer gang you ever saw. We raced on used tires and I had to borrow a tow vehicle from someone for each race, and sometimes had to borrow a trailer. We depended upon whatever prize money we won – usually $300-$600. I wasn't allowed to work on the car but became very good at scrounging for used race parts. Al was a HD diesel mechanic and had some drag racing background, but he and his friends who helped with the car knew very little about road race setup. We learned as we went along. I didn't know anything either – just sort of drove whatever they provided on the grid. At every race, Mark Schwien, Rusty Jowett's mechanic, would take pity on us and tell us the "hot tip". He was an ex-Nascar mechanic and had some smarts.