In '67, all Camaros utilized a standard size drag link regardless of the model (L6, 327, SS, etc). The size was around .945" diameter or 15/16".
For Trans-Am racing, it was found fairly quickly that this drag link would bend under the constant pounding of a long race on a rough track
such as Sebring. This would, of course, adversely affect the handling of the car. I know for a fact that Mustangs also had the same problems.
What many teams did was beef up these drag links, such as welding angle iron to them. For Camaro, this was addressed in 1968 by offering
a larger diameter drag link with "special surface treatment", which meant it was shot peened and possibly tufftrided. This larger diameter drag
link was not a production piece, It was only available through the parts department and, as such, it is extremely rare. In '69, a larger diameter
drag link was made available on production line Camaros with air conditioning and/or power steering. Like the special '68 piece, it measured
over an inch, about 1.125" or 1 1/16" but it did not have the special surface treatment. If you're building a Camaro from scratch, you want to
start with one of these larger drag links but back in '67 you had to work with what you had and that meant beefing up the existing small one.
Comparison of smaller Camaro drag link to larger power steering one, which became available in '69.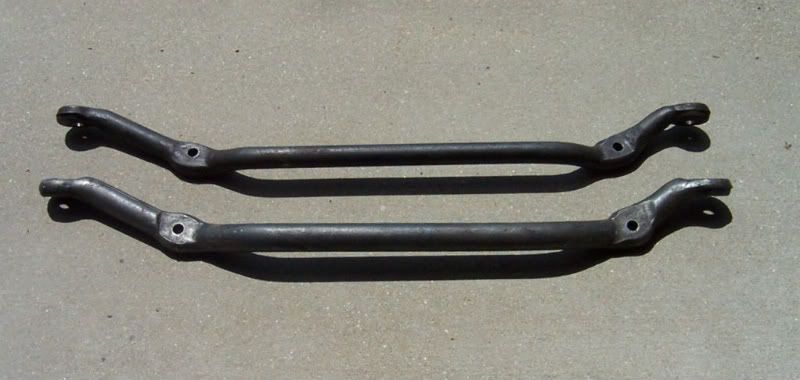 "Special surface treatment" drag link on Chad's Trans-Am Camaro.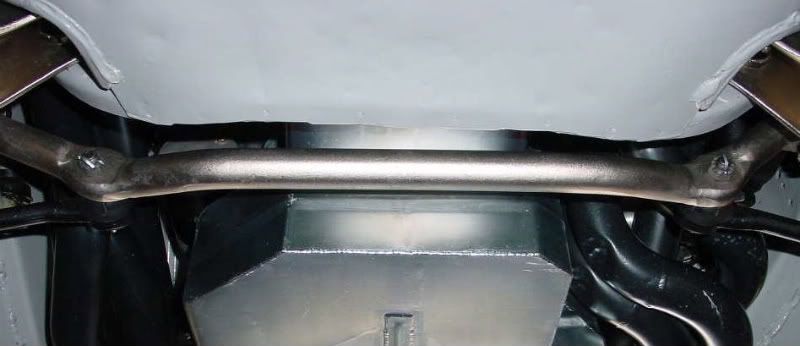 "Special surface treatment" drag link on Chad's Trans-Am Camaro. Note the tall ridge at the end which helps to ID it.
Original '67 drag link with angle iron welded to it (front view)
Original '67 drag link with angle iron welded to it (rear view)
Small diameter original drag link: p/n 3888637, superceded by p/n 3923587
"Special surface treatment" drag link: p/n 3923589 (racer part, very hard to find)
Larger diameter '69 drag link: p/n 3953221 (factory upgrade, not hard to come by)