1
« on: June 30, 2017, 06:08:45 PM »
Thanks everyone for the kind interest displayed and replies afforded...
Indeed, most every project I have vanishes into a sealed case largely to ward away dust. I imagine too that observing such protocol prevents me from endlessly revising some projects for the labor to move all the cases necessary to access this or that project is often judged prohibitive!
Concerning necessary body modifications, a more elaborate Greenlight-based '68 Mustang project has been harbored and kept out of sight for some time, this complete with factory flares and revised front and rear valences. Initially intended to be a blue late-season entry, in time I hope it will emerge as a reasoned earlier season pale yellow #1. At first I just didn't believe that my multi-part wheels would be strong enough to support the weight of the project, but happily this concern hasn't proved as debilitating as first feared.
...this would be the revised '67-'68 front valence, looking a bit shark-like for removal of the usual blade bumper. The valence of another Greenlight Mustang was cut off with a razor saw, plugged for holes, and then cast in resin before being reshaped to result in what is seen here. The upper portion is wholly scratch built. Look closely and front flares can just be made out...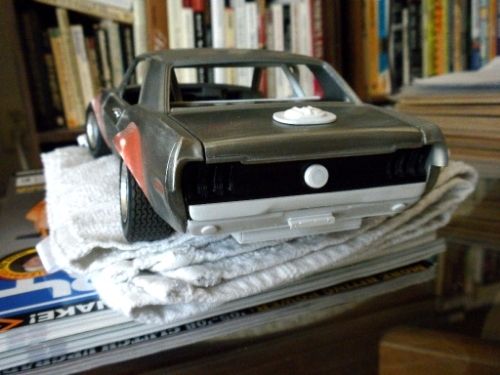 ...flare work further discerned (a bit chubby in point of fact), with the GT-style exhaust cutouts removed entirely from the valence panel for scratch building a substitute. Some contours have been added as has been a license plate mount.
-
...'68-specific door panels from an earlier Greenlight tool waiting for paint prior to being added to the factory-finished blue example then. The model came through with '67 panels, while the door-mounted shoulder pad seen in the reference photo needed to be scratch built and added as shown.
Lastly, for much not strictly obvious effort, the rather odd two-thirds length sun screen has been added to the top of the windscreen of the late '68 season Shelby Racing Co. Mustang. Initial efforts to mask the area in situ failed miserably for poor finish control; i.e. puddling along the edges, seepage, etc. Eventually I obtained some clear decal film and sprayed Tamiya Smoke tint onto it prior to applying Testor's Decal Bonder atop it to effect a seal. A pattern reproducing the radius of the top of the screen helped me to cut the material accurately without strictly chipping it, whereupon the finished tinted panel was transferred as a typical water slide decal to the work proper without much fuss. The exterior rear view mirror has been removed and touched in, as has the antenna mount atop the fender. Yep - the windshield wipers are missing! Perhaps not much to see, but still looking fairly good.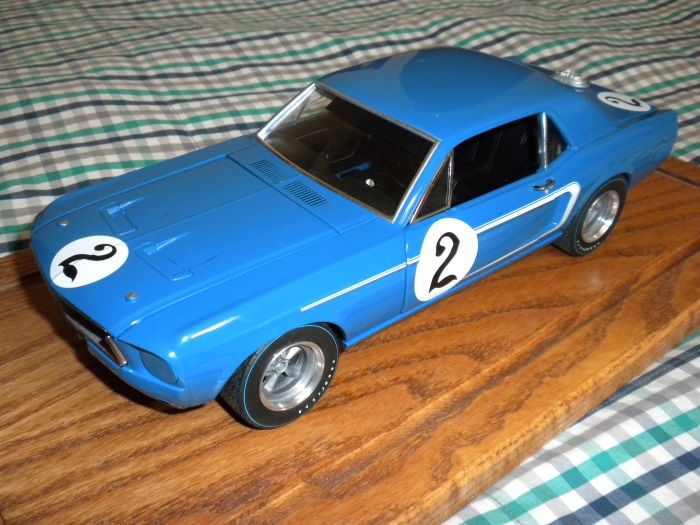 Thanks for your reviewing this update.
Mike K.