1
« on: May 26, 2011, 11:36:11 PM »
Greetings,
Likely falling under the heading of memorabilia, some time ago I purchased an example of each 1:18 Penske Donohue SCCA Trans Am Camaro that GMP produced and sold during the mid-2000's. Then I was alternately impressed and disappointed for what was captured, and what was not, whereas now I'm trying to fix everything. For example, each seem to have a '69 dashboard, whereas all underhood details but for the induction system seem oriented towards an older interpretation of how one of the '69 Penske Donohue Camaros was first restored. Not a terrible effort overall mind you, but not quite all that I wished for as delivered. I'm sure others here have thought the same.
Anyhow, each can be modified, and although incomplete as a trio, below will be seen a few in-progress photographs. I'm curious if others have attempted mods. much as I have, and specifically, what impressions and ideas may be exchanged or offered up, etc. Wonderful to notice this unexpected vintage SCCA Trans Am web presence oriented to the Camaro crowd, and very thankful for it. Hope I do to post a few messages and photographs to lend to the sense of community present here. Thanks and with warm regards...
Mike K.
...'67 Marlboro, MD conversion, incomplete and a bit raw. Interior/chassis/underhood painted semi-gloss black, markings revised, more to come in the form of a Lane's Performance '67 4BBL cowl induction air cleaner, '67 standard accessory drive, upright radiator, yellow-painted headers, 'stamped' valve covers sans fins, etc. Entire gray paint application found under roof, on door jams as well as door inner structure removed - incredibly tedious this. Chrome drip rail tampo print application removed. Front spoiler removed and reshaped prior to respray of same - quite a bit shorter now. Thanks so much to the poster who uploaded the underhood picture of this topic within the space of the first thread. I'd seen the same online, had lost just where I'd seen it, and was heartened to discover this new website addition as I continued my search for the image in question.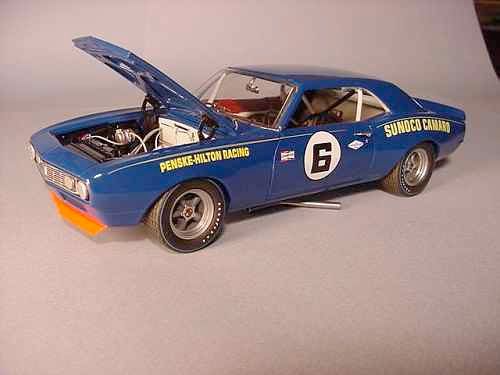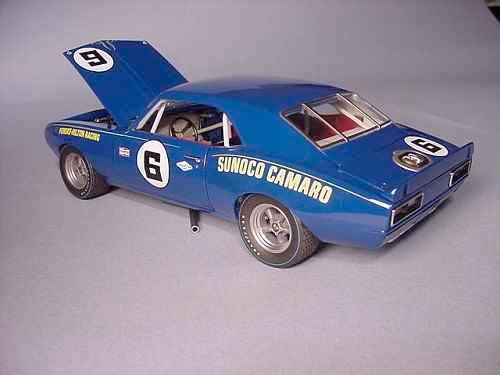 ...'68 with revised 'SUNOCO CAMARO' markings situated higher up, red interior panels (sprayed within vinyl interior restoration paint color matched to suit), repainted wheels (sans lugs at present), revised markings, rear screen sans retention straps. Chrome drip rail tampo print application removed. Clearly an 'engine out' effort, for the engine is nowhere to be seen. 1:18 Maisto '68 Z/28 grille cut and installed in place of horribly-rendered standard part, headlamp covers drilled out for each of three 'dimples' seen on same within period photographs, reshaped and resprayed front spoiler. Hood hinges painted black, undersurface now painted blue but may paint black given a color '68 Sam Posey image viewed elsewhere on this website. Obviously a work in progress.
...'69 roughly a Riverside entry but for missing C-pillar Diehard battery sponsorship decals. Foilwork as well as rubber window gasket detail. Bumpers removed, overiders on rear bumper sanded off, front and rear refinished. Grille surround painted gray, grille removed and stripped of chrome, with the same being painted argent. Markings revised, jack fluorescent 'flashes' done in R/C aircraft vinyl tape, sway bars and mounts to be scratch-built. Much done that cannot be accurately captured in so short a space. Fuel inlet 'trap door' setup to come. Single upright wiper likely the very last thing that will be set in place. Thanks for inspecting this post.
M.K.