Feature Car: June/July 2016
1967 RS/SS 350 (L48)
The Feature Car this month is pretty special, an unrestored black RS/SS 350 coupe! This car is owned by CRG member Brad Crick.
The 1967 Camaro was ordered at Chevy Chase Chevrolet in Bethesda, Maryland on October 21, 1966. It was delivered to the dealer and the inspection and adjustment schedule was filled out on December 29th, 1966. It was bought and paid for in full for $3900.00 on December 30th, 1966. The original owner sold the car in 1989, then the second owner sold the car in 1992. The third owner had the car certified by Jerry MacNeish with Camaro Hi-Performance, Inc. on November 17, 2011.
This car is extensively documented. The original owner started and maintained a complete service and repair history of the car with dates and invoices, warranty tags, and registrations. This has been maintained and continued by the successors of ownership for the Camaro's total 50 year history.
Brad purchased the car in 2014, after owning a driver 1969 Camaro for several years and wanting to invest in a numbers matching car.
This is a quote from Jerry's report/appraisal on the car. "One of the largest portfolios of paperwork that I've ever seen on a 1967 Camaro adds a lot of pedigree to the vehicle and history. The only things changed or removed on this car were due to maintenance issues and nothing more."
The original owner wanted performance and comfort. The option list on this car is impressive. (A01) Tinted Glass All, (A39) Seat Belts All Deluxe, (A67) Folding Rear Seat, (B93) Door-Edge Guards, (C08) Vinyl Roof, (C60) Air Conditioning (D55) Console, (G80) Positraction (J50) Power Brakes, (J52) Front Disc Brakes, (L48) 350/295 hp Engine/Base SS, (M35) Powerglide 2 Speed Transmission, (N33) Tilt Steering Wheel, (N40) Power Steering, (N44) Special Quick Ratio Steering, (U17) Gauges, (U25 to U29) Aux. Lighting Group, (U63) AM Pushbutton Radio, (Z22) Rally Sport Package, (Z23) Special Interior, (Z87) Custom Interior, plus a factory ordered - dealer installed Speed and Cruise Control (K30).
| | |
| --- | --- |
| | |
The are a few oddities, but they only add to the desirability of the car. Notes from the ordering salesman's desk suggest that a Fleet and Special Order (F&SO) was sought to delete the nose stripe. The notes dated a couple weeks after original order lead us to believe that the car was delivered to the dealer as a stripe delete car. D91 would have been part of the SS option. The car was also ordered with a 3:07 positraction differential, but for some unknown reason it was delivered with a 3.31 axle. Then there is the the cruise control mystery. The car was ordered with a (K30) factory cruise and delivered without. Thinking maybe this option was going to delay car, it may have been deleted. It is thought a kit had yet to be put together for a dealer install at that time. The parts used on the car are the same as those used in production, not those in the first known kits. So it may have been pulled from another car, or they may have been assembly line parts installed by the dealer a few weeks later.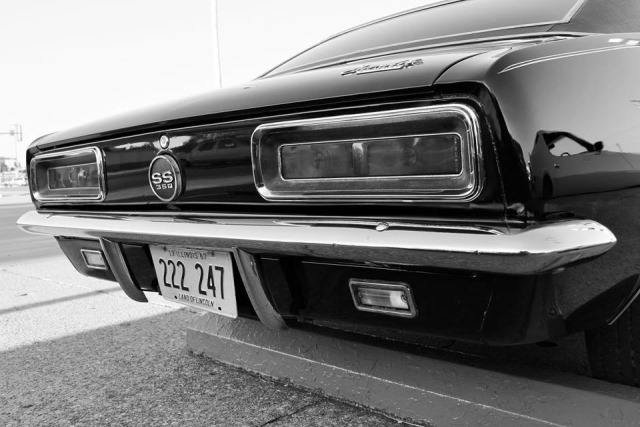 Brad - thank you for submitting your photos and history of your car!
---