Feature Car: August/September 2016
1969 Camaro, owned by CRG member J. Bentley Balke aka "ko-lek-tor"
Here is the story of the car as told by the owner.
It was 1985, I had been married for three years and money was still scarce for extras. The wife and I lived in a small starter house that we bought before marrying. I had to sell off some stuff at that time, but held on to two 1969 Camaros that I had owned since age 18. I worked at a Mercedes dealer as a flat rate Technician. The local trading classified paper came out on Thursdays, and I would get it to look over at lunch.
Always looking for a part for my own projects, I came across an ad for a dash pad and factory tach. I called out of curiosity and came to find out the guy had a whole car and was parting it out. I asked if he would sell the whole car? Yes, for $200, he answered. Upon getting off work and grabbing a flash light, I went down to see this car. It was still at a time when it got dark early. The car was in pieces inside the guys house. He had an SS hood that he wanted an extra $100 and $200 for the engine, a 307. In hindsight, I wish I would have bought that engine, but who wanted a lowly 307 and for that kind of money?! I planned on parting the car out since it was not special, but it was unusual.
Some of the following photos are vintage pics of the car from the 80s and 90s.
Whoever ordered this car wanted "sportiness", yet was not willing to go the SS or Z route. Most notably,this 3E, X11, Norwood car was ordered with (N44) Quick ratio steering, (U17) Guages, M20 transmission, (D55) Console, a D90 stripe and a few other options. The original color is Daytona Yellow with black accents, black top and black interior. I decided to keep the car and put on the road as a daily driver.
Not having much money, I traded something for some tires and put together a 'budget' flat top 350. I had this car on the road in two weeks! Not too long after I got the car on the road, a piston skirt broke off causing annoying noises. I pulled it out in a weekend and put in a 307 I came up with cheap. The engine had been sitting a long time. I soon found out (the first day I drove it to work) that it used oil. In fact it ran out of oil on the way home. From then on, I kept several gallon jugs with used oil on board.
| | |
| --- | --- |
| | |
I drove the car for about a year and pulled that engine. We moved and I brought the car with me. Zoning did not like the car sitting around without an engine, so another 350 went in, this time a warmed over engine with a tunnel ram. It would wind the tach way past the 7000 grand max. But the 3.08 single track did not allow much traction. By now, we were getting to be a family and kids came along. All my cars became less important and the family demanded more time, so I put my toys away for 25 years.
| | |
| --- | --- |
| | |
When the last child moved out, I decided I would get back into the car hobby. I got the yellow car going with A LOT of coaxing and started taking it to a couple of local events where I meet up with friends that go way back. Funny how time can make a difference. From a car that was an embarrassment to take to a show, the ole gal was now the center of attention with its original paint and being relatively untouched. Now, I take it out sparingly as I now have a grand child and find it harder to have the time and energy to spend on my cars.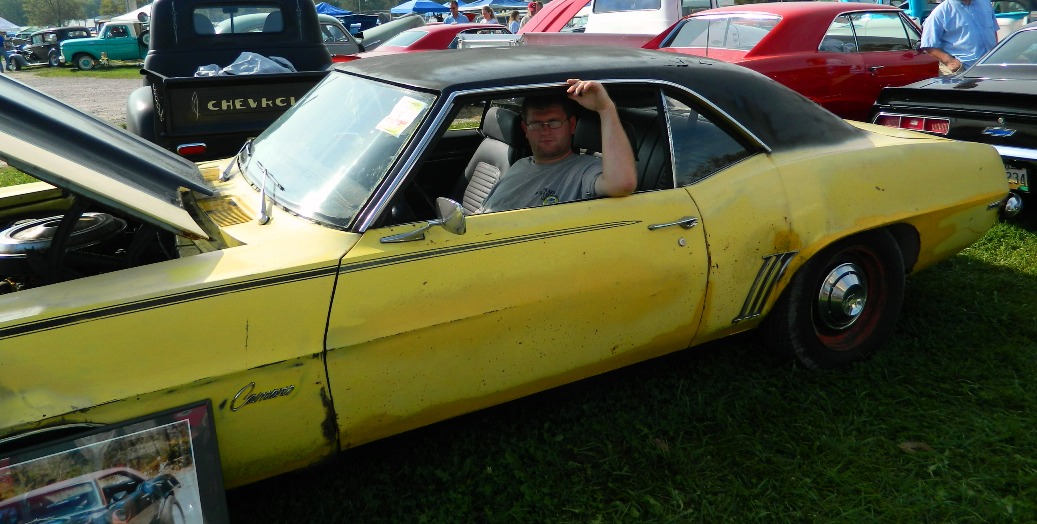 With help from my son (pictured above) future plans are to leave the car in it's rough untouched state with one change, I love 69 big block Camaros. I have collected a cache of Day 2 parts, enough to make a COPO tribute car. Since the car has D90 striping, it will mimic a "Berger" Camaro. I will be running fat and skinny Rocket Stage 1/Cragar SS mags, 1970 Lakewood slapper bars and vintage scattershield. I have a full set of Sun 2 5/8 Chrome gauges with cups and a 69 dated Sun tach. I have vintage bias ply tires, big tube headers, "Grumpy Lump" hood scoop and several big blocks to choose from, most probably a 427 with a Edelbrock tunnel ram & a BV 4.10 rear. This will be an unusual COPO replica as it will look as if it just came out of a 30 year storage so no fresh painted engine or pristine anything. Wish me luck.
ko-lek-tor - Thank You for submitting your photos and the history of your car!
---